Dynamic Foam Analyzer
DFA100FSM
Time-dependent analysis of bubble size in liquid foams
The FSM Foam Structure Module for the DFA100 captures the bubble size and size distribution of foam using intelligent video image analysis. The results help you to produce foam with the shape you want it to have. They also show the decay of long-lasting foam, long before it actually collapses, thus supporting you in optimizing foam stability.
Applications
Foams for washing and cleaning

Foams in food and personal care products

Surfactant development

Flotation as a method for separating solids
Measuring methods
Foamability and foam stability using the optically detected height of foam created reproducibly

Foam formation behavior of heavily foaming liquids using stirring cycles

Optically detected foam bubble sizes and their statistical distribution

Moisture and drainage behavior of foam using its electrical conductivity

Carrying out a measurement up to 20 consecutive times and displaying the results together
Measuring results
Bubble count per mm², mean bubble size and standard deviation as well as bubble radius directly after foam formation

Decay observation by recording time-dependent values of all bubble size parameters

Bubble size histogram showing size distribution

Bubble count half-life

Additional results for foam height and volume from DFA100 main instrument
Precise investigation of bubble size and quantity
It depends on the particular product whether foam with large or small bubbles is desired. Homogeneity is also important as an indirect measurement of long-term stability or for the sensory perception of foam. With the FSM, you can express these foam properties in solid numbers. To enable different types of foam to be investigated with the same precision, the resolution of the optical system can be easily adapted to small or large pore sizes.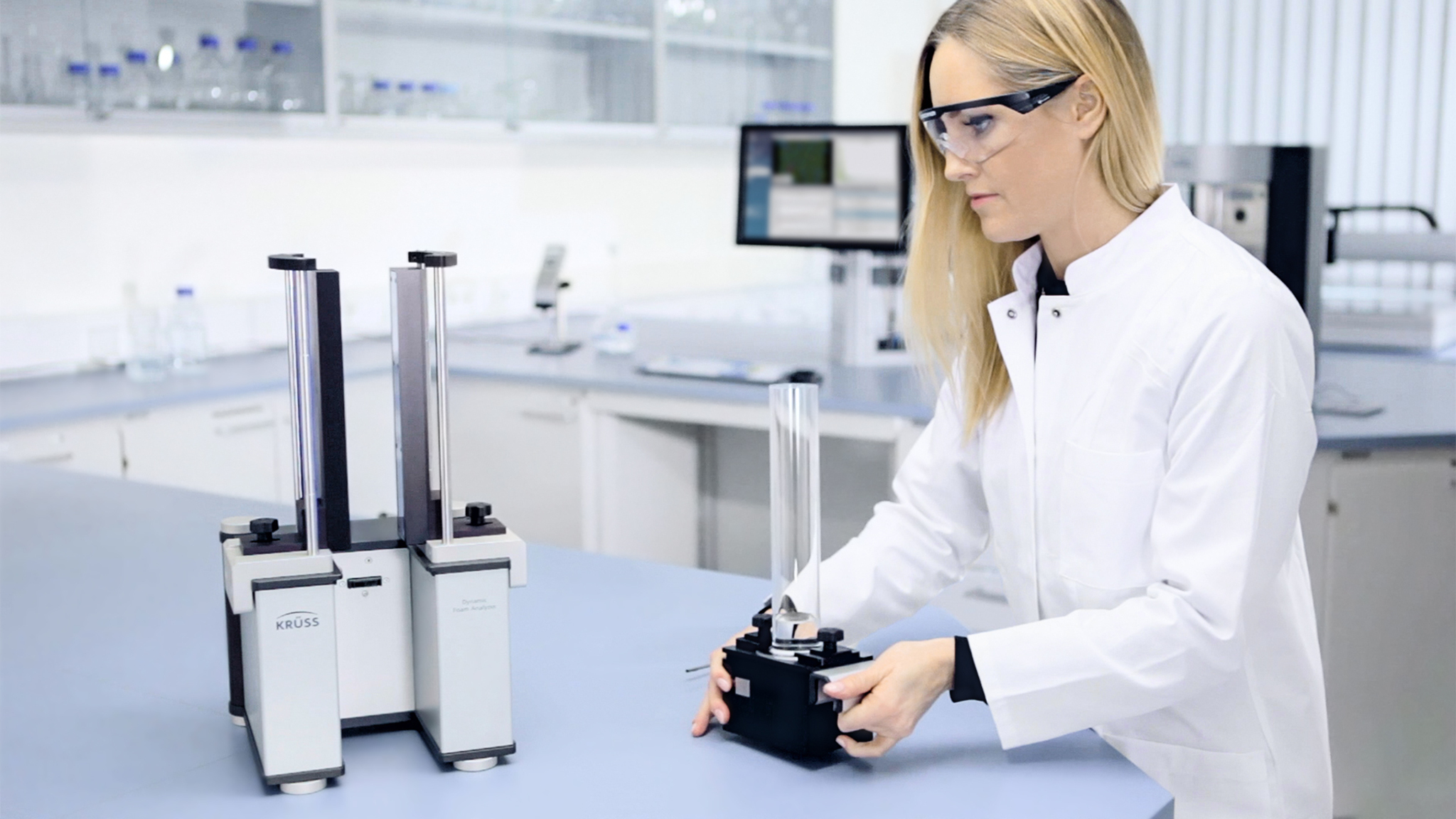 DYNAMIC FOAM ANALYZER
Scientific characterization of foam
Foam in everyday products as well as technical applications appears in manifold forms and is often produced on purpose, but can also be undesired. Our DFA100 characterizes almost every aspect of foam, putting a wide range of methods into practice with impressive ease of use.
Revealing time-dependent changes in structure
Before foam collapses, its structure starts to change, i.e. large bubbles are formed and smaller ones disappear. Thanks to versatile timing options, this process is accurately recorded and analyzed. The results help to specifically optimize the liquid in order to obtain stable or rapidly decaying foam depending on the requirements. Moreover, foam height measurements and even liquid content detections can be carried out within the same experiment to obtain a comprehensive picture of foam behavior.
ADVANCE Software
Automatic analysis and powerful evaluation
The simple operation of the instrument goes hand in hand with the intuitive user interface of our ADVANCE software. Easy to create automation programs control the measurement run and allow cyclical repetitions. The synchronous display of all time-related data for foam height, bubble structure, and liquid content is particularly convenient.
YOUR INSTRUMENT'S BRAIN

Intuitive software with a workflow-oriented user interface

Swift and repeatable analyses thanks to measurement templates and powerful automation functions

Result management made easy with clear and comprehensive charts and tables

A wide range of results describing foam formation, stability, and decay
To the top